Quick quiz for you! Yes or no:
Are your days packed with one-off one-to-one calls?
Does your revenue fluctuate wildly from month to month?
Are you drowning in email admin?
If you answered "yes" to one or more of those questions than you need to create a profitable coaching package.
(If you answered "yes" to less then one, I'm impressed with your ninja math skills. Numbers aren't your boss!)
What's so magical about turning one-offs into packages?
They give your clients a clear path to start working with you.
You'll build more predictable, consistent income streams – forecast revenue months, not weeks, ahead.
You'll attract quality clients—when someone signs up for a 3+ month package they're invested and committed to the coaching process, thus destined for fantastic results.
You'll save time and money—Satori automates the dreaded admin and delivers a smooth sign-up process for your clients. They can schedule calls, answer pre-session questionnaires and pay invoices, without you writing a single email!
Which is why we made sure it was super easy to create your package in Satori. Who loves more profit and sanity? You, that's who.
Here's how you put together your first package in Satori!
Step 1—Marketing
Log in to Satori and go to Offers > Create New Offer. Give your package a name then click Create Offer. Now fill in the details:
Introduction – describe the structure and benefits for your client.
Visibility – choose between a Public or Private offer. Public Offers are listed on your General Bookings Page. This is a speedy way to set up a menu of your services. Private offers are unlisted which they're only accessible via direct booking links.
Bookings Close – Want to create a time-limited offer? Set a Bookings Close date and the offer will automatically come off sale. Or choose "Evergreen" if you want it to always be available.
Client Reviews – We all know testimonials are gold, and this option automate the process. Satori will send your client a friendly invitation fill out a short review questionnaire once they're completed the package.
Mailing List – Connect your AWeber or Mailchimp account with Satori, then get clients automatically added to your mailing list when they purchase the package.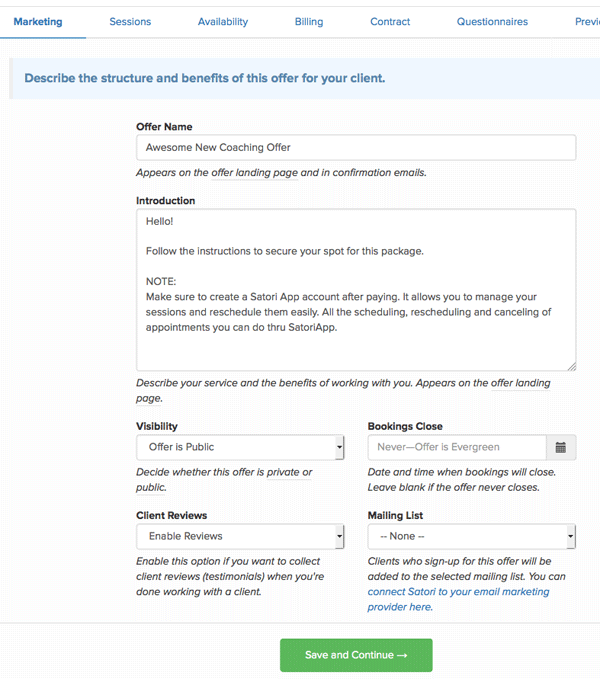 Step 2—Sessions
Here's where we bust out the nitty-gritty of your package:
What does the client get with your package? Enter the number of sessions and the length of each one.
If you'd like to have an initial intake call to assess your new client you can set a Foundation Session, which can be longer than the other sessions.
You can also add call instructions so they know how to contact you for their session. Jump on Skype? Wait on Google Hangouts? Send a carrier pigeon? It's important to lay it out when the client signs up so no confusion or incorrect expectations ruin the honeymoon.
Tick 'schedule reminders' (totally recommend) to make sure they have everything they need to show up on time. (Because time is money or a potential nap.)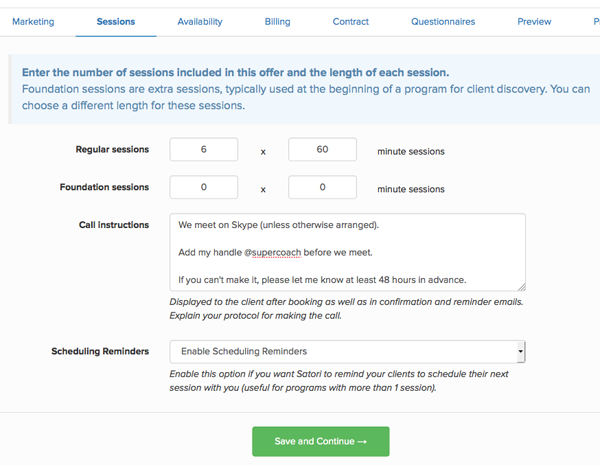 Step 3—Availability
It's time to retire from email tennis – "When's good for you?" "1:34pm on the third Thursday of the month for 23min." "uhhhh".
Let Satori know your availability and we'll do the rest. You can create one-off or repeating schedules, then Satori integrates with your Google calendar to eliminate double bookings (because spa day is sacred) and keep your availability current. When the client comes to book, your availability will automatically convert to their timezone – so you can retire from timezone math, too! WOO!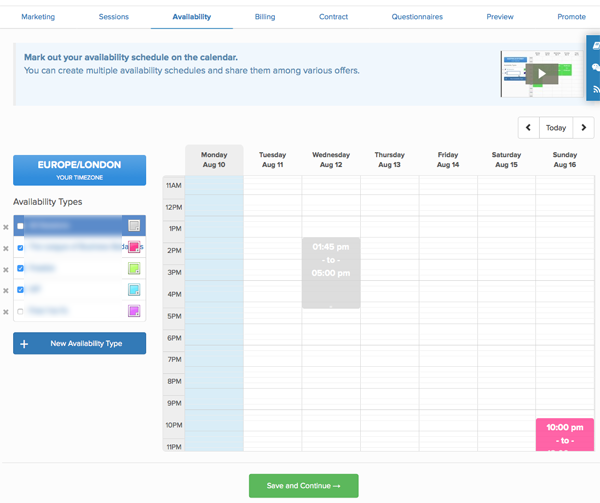 Step 4—Billing
Did you know that payment plans increase conversion rates? YEAH! Which is why we made sure you could offer different ways for your clients to say "yes!" and pay you. Choose from single payment, monthly or a custom billing schedule . You can offer payment plans and discounts to make paying in full (up front) a win for everyone! Sit back and let the money roll in each month—Satori saves you time and worry with automatic invoicing and payments.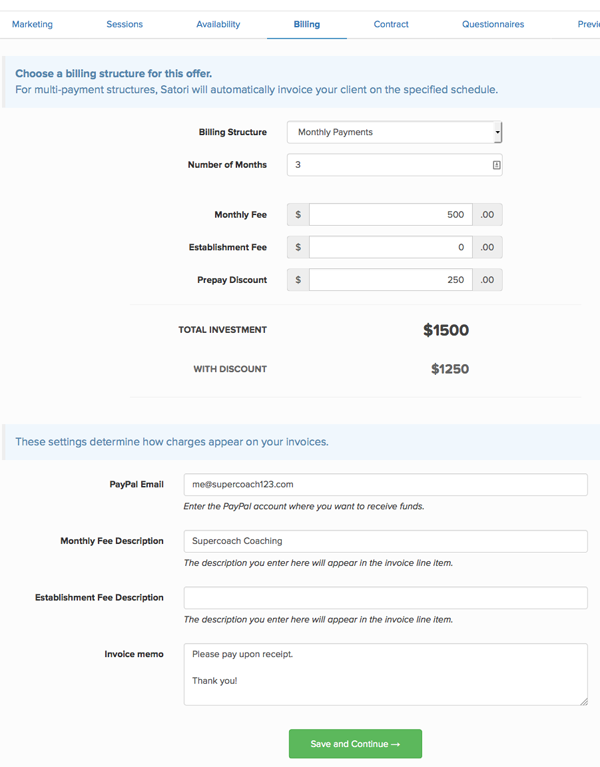 Step 5—Contract
We provide a standard template that you can tailor to suit your practice. The contract has dynamic merge fields that automatically insert values such as Client Name, Number of Sessions and Price.
When customizing your contract, be crystal clear about your terms. What is your cancellation policy? Do you offer refunds? What's the process for your coaching calls? Being clear and specific on what you'll deliver and what is expected of the client will get your relationship off to a happy start.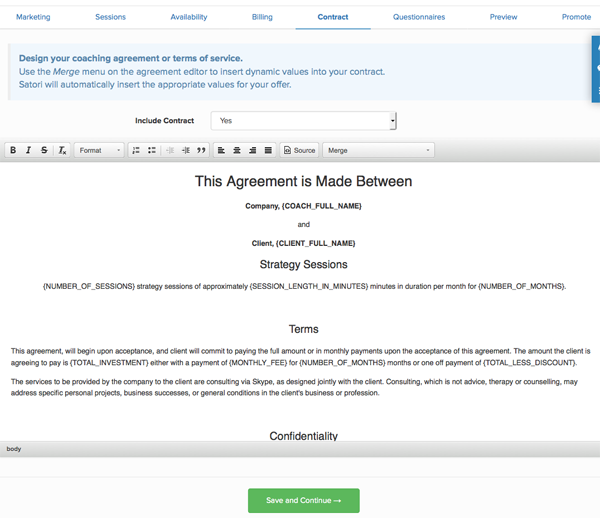 Step 6—Questionnaires
Your clients want to make the most of their sessions with you. The best way to do that? Pre-session questionnaires (aka 'agendas') so that every minute counts. Satori automatically sends the questionnaires to your client before each session. You can discover motivations, set agendas, and check in with accountabilities. You'll receive their responses right away, so you can show up prepared to deliver a great coaching session.
Step 7—Preview
What does your client see? Take a look at how your offer sign-up process will appear to clients. If you need to make changes click on any of the previous steps.
Step 8—Promote
It's showtime! Satori provides copy-and-paste booking button code for your website (in a high-conversion color), as well as booking links so you can share your offer on your blog, newsletter, email signature and social media channels. The Direct link takes people to the offer's booking page, and the General link goes to a menu of all your public offers.
Now go forth and share your links! You're certified sane (and profitable).